As a European Studies student with a budding passion for the environment, diving into a world of environmental and marine biology jargon was jarring. I remember hearing about Oceanus a year prior when I worked with Grounded PH and Oceanus' collaboration for the Grounded Radio podcast episodes of Ocean Adventures With Cory and There Are Cities Underwater. To say that I was enthralled is an understatement which is why I was so ecstatic when I got the news that I could intern at Oceanus and be a part of their team.
The Organization
One of the things that surprised me in Oceanus is how a great organization like this is only run by four of the most dedicated, brilliant, and bright people I have come across. Their tight-knit bond and passion can be felt through the screen. It gives such positivity in the workplace because it is so motivating to do one's part in creating a better habitat for everyone and keep the organization running smoothly at the same time when you are surrounded by people who have such deep appreciation and concern for the environment.
Internship Blues and Nerves
Although I was very nervous, their warm welcome made it easier for me to adapt to every passing day. Unfortunately, I could only be an intern virtually yet my experience with Oceanus is still one of the most fulfilling experiences I have ever had. There were times of confusion and uncertainty, for sure, but it triumphed by the end result. There was a sense of lightness within me whenever I finished a task because I did it with the knowledge of helping both the cause and the organization. I would have loved it even better if I had the chance to join their field works and mural painting. Hopefully, there will be one somewhere in Manila! But there is always a next time with Oceanus.
For the Cause: Advocacy and Communications Department
As part of the Advocacy and Communication department, I was tasked with creating graphics, writing blog articles, and helping out in other social media aspects for the organization. Most of these are tasks that I was not confident doing at first. But with the right guidance and support from my supervisors, Ms. Mariz and Ms. Camille, I managed to exceed my own expectations! Seeing my works published online was the real kilig experience that I needed. I could not wait to create more each week.
However, I would consider my first venture into live hosting for Oceanus with KabanatanPH to be the highlight of my whole internship experience. It was very interesting to hear and resonate with other notable people working on the conservation and restoration of mangroves.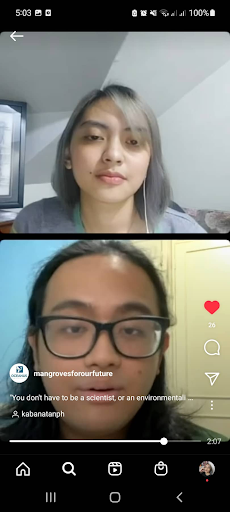 All in all, my intern life at Oceanus was an eye-opening experience. It definitely opened up a whole new world for me and it is one that I will continue to venture into in the years to come.
Oceanus made me realize that there is a lightness of being within ourselves when we act upon our advocacies. No matter how big or small our efforts are, it all counts and it all comes down to the bigger picture.

-Avelyn Mae Domingo, Oceanus Intern 2022
If you are interested to apply for internship and volunteer opportunities at Oceanus Conservation, click here or send us an email at info@oceanusconservation.org