Mangroves in the Philippines
We have the common knowledge that whenever we encounter a plant or tree species, we always end up with one conclusion. They absorb carbon dioxide and give off oxygen. Conversely, they are called autotrophs. They are organisms that can make their food. And in the process, they support humans and other living things by providing clean and fresh air. This is why mangrove rehabilitation, restoration, and conservation is vital to human survival.
However, one type of tree or shrub has been neglected and obscured through time, and individuals are completely unaware of its importance and purpose. And by far its greatest threat, they are significantly degrading due to the rapid expansion of aquaculture industries. They have been cleared out to make room for artificial ponds, wood use, and reclamations. These are our Philippine mangroves.
Oceanus Conservation
Here at Oceanus Conservation, one of our goals is to restore degraded mangrove forests and abandoned fishponds here in the Philippines. As a result, we conducted capacity-building training for mangrove restoration and conservation as part of our Blue Carbon Program. This training is for the Barangay Poblacion and Aras-asan Fisherfolk Associations to fill in knowledge gaps and implement the vision of the organization.
Mangrove restoration training in Cagwait, Surigao del Sur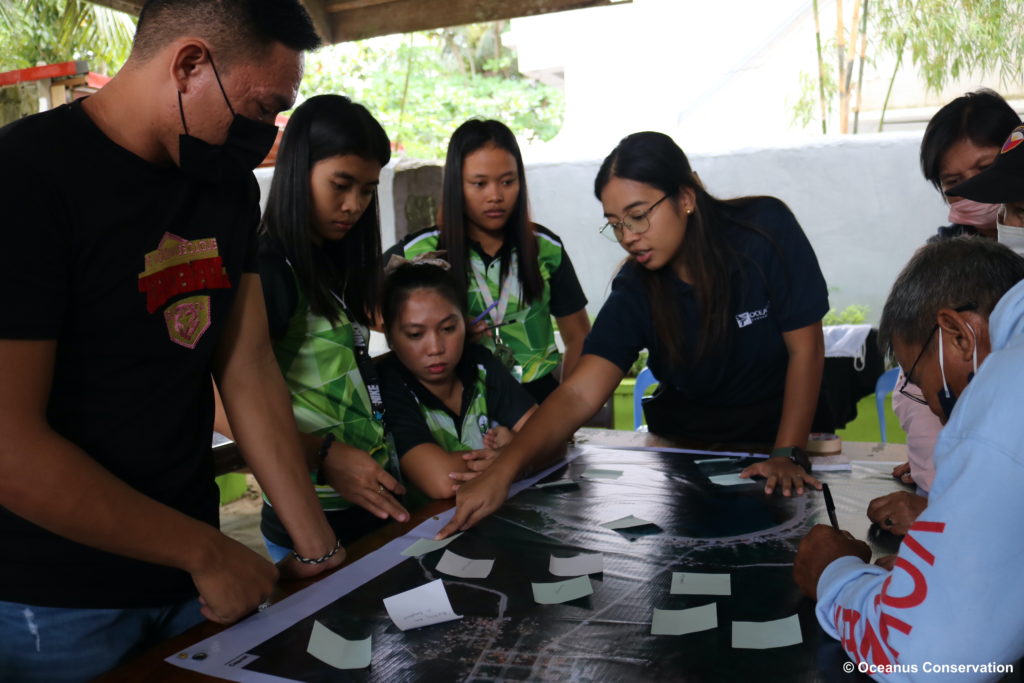 Mangroves are very important organisms in the coastal ecosystem. They provide breeding grounds and shelter for marine animals and they are natural walls that protect people from storms and erosions. Additionally, they have natural-based solutions that filter different kinds of water pollutants. And most of all, they store huge amounts of carbon dioxide emissions and other greenhouse gasses from the atmosphere that are primarily the cause of climate change.
On August 18th and 19th of 2022, Oceanus Conservation conducted training at Emerald Resort, Cagwait Surigao del Sur together with the LGU (Local Government Unit) of Cagwait, student interns from MENRO (Municipal Environment and Natural Resources Office), and the local community (Fisherfolk Associations from Barangay Poblacion and Aras-asan). The training focused on preparing these communities for mangrove rehabilitation in its abandoned fish pond areas.
Training proper
The Oceanus Conservation team held a 2-day program for the interns and the local community. On the first day, there were different lectures and activities presented. We discussed mangrove biology and ecosystem restoration to provide participants with knowledge and insights. Moreover, to consolidate their acquired knowledge, the participants then participated in trial activities in the field.
On the second day of the training, we then proceeded to the on-the-ground implementation. We did mangrove identification, zone monitoring, mangrove nursery, and checking of the seeds.
Why conduct mangrove rehabilitation and restoration training?
Many mangrove planting operations in the Philippines have been squandered due to the incorrect species being planted in the wrong area. That's why training for capacity-building on mangrove restoration and conservation for local communities is extremely important before completing a planting activity because mangroves have certain zones in which they strive to grow.
If you want to be part of us and support our Blue Carbon Program, send us a message!